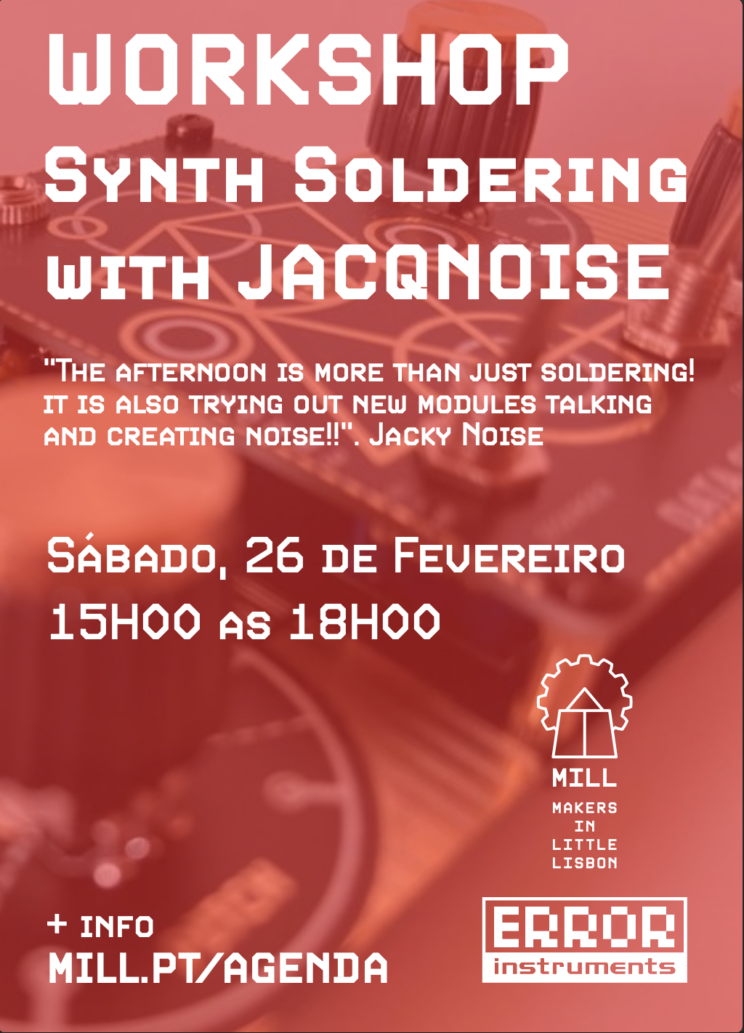 [PT]
Sentes algo pelos sons eletrônicos estranhos ou crus? Colecionas sons exóticos e instrumentos com falhas ao longo dos anos? Ou preferes apenas aprender a soldar? Então este workshop é para ti. Em grupo, vamos "tentar e errar" até obter alguns scratchy noises que usaremos na jam final.
Neste workshop, enquanto soldamos o teu (primeiro) sintetizador entendes melhor a eletrônica dos synths.
O objetivo do workshop é que todos construam e saiam com a sua própria fonte de ruído e que também conquistem confiança e know-how para desenvolver projectos de sintetizadores por conta própria.
Registre-se o quanto antes!! Assim os Kits podem ser preparados!
Vagas limitadas, inscreva-se AGORA para garantir sua vaga!
O workshop inclui todos os materiais e é ministrado pela equipe de ERROR instruments, Paul Tas e JacqNoise
Local: MILL – Makers In Little Lisbon
Data: Sábado, dia 26 de fevereiro entre as 3 e as 6 da tarde.
Escolha o KIT que irás soldar mais abaixo.
Sobre JACQNOISE
[EN]
Do you have something with weird or raw electronic sounds? Have you been collecting exotic sounds and glitchy instruments over the years? Or do you just want to learn how to solder? Then this workshop is something for you. Error academy selected three different DIY kits for this workshop.
The following KITs are available, choose yours by registering below for this workshop:
Error instruments Blind Noise in black and red
Blind noise is an analog Touch noise synthesizer. That works on muscle memory and capacitive touch
Error instruments Data Synth in silver
Data synth is a digital synthesizer that creates a large range of noises and crunchy structures, it is based on 70 algorithms.
Error instruments Drone in black
The analog drone bank is based on different oscillators. This creates layers of drones that are responding and controlled by light sensors used as a vactrols.
The workshop include all materials and is given by team ERROR instruments Paul Tas and JacqNoise
Location: MILL – Makers In Little Lisbon
Date: Saturday, Fevereiro the 26th – 3pm to 6pm
Register As Soon as Possible!! So the Kits can be prepared!
Limited seats available, Register NOW to guarantee your spot!
About JACQNOISE
Lately, Jacky aka JacqNoise, as an errorist, pioneered hardware interfaces that support algorithms or analogue circuits focusing on chaos in order to develop noises and specify sounds.
She has given workshops in the last 4 years that have centralised on fundamentals of creating sounds. This was either by having the focus on the hardware (Eurorack format) or creating compositions with deconstruction field recordings. Besides the workshop program, Jacky performs live with her Eurorack case that synchronises with her surroundings. She finds her main source of inspiration in cultural cross-pollination.
About Error Instruments
A company from the Netherlands Amsterdam focuses on Sound Art and sonic experience. Over 10 years active in different disciplines to create new multi-media concepts. Making Synthesizers as standalone devices and for the modular Eurorack format. The core of the development is, creating hardware that generates experimental sounds.
Some of the sounds of the ERROR instruments can be found in movies, the rock and dance industry from the great sound designers like Hans Zimmer, Martin Gore Depeche Mode, or Trent Reznor.
Ran by Paul Tas (2013) and E vd Brink (2018).
Preço com o KIT para soldar incluído: 70€
Price KIT to solder included: 70€
Devido as restrições da Pandemia o uso da máscara será obrigatório.
Due to pandemic restrictions, the use of the mask will be mandatory.
Agradecemos que informe no campo "comments" abaixo qual o KIT que pretende soldar durante o workshop, para podermos prepara-lo.
Please let us know in the "comments" field below which KIT you want to solder during the workshop, so that we can prepare it.
Bookings
As reservas estão fechadas para este evento.